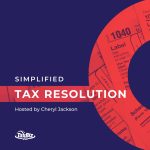 In this episode, the Tax Biz team is joined by Jeanna Pryor, founder and CEO of Pryor Financial Services, LLC, to discuss planning for taxes in retirement.
Discussion Points Covered Include:
When to retire
When to begin preparing for retirement
How to know my taxable retirement income
Changes to tax rates after retirement
How retirement can impacts lifestyle 
Proper steps to plan retirement
Have questions specific to your unique situation? Book a free consultation with one of our experts at https://taxbizusa.com/ or give us a call at 1-844-482-9249
About Tax Biz USA:
Our firm provides outstanding service to our clients because of our dedication to the three underlying principles of professionalism, responsiveness, and quality. We welcome you to contact us anytime.
(p): 1-844-482-9249
(w): https://taxbizusa.com/
Get the detailed attention that you need from an experienced accountant at TaxBiz USA. If you'd like more information or if you're ready for us to get started, give us a call today for an appointment or to further discuss your options.
Keep up with us online:
Instagram: https://www.instagram.com/taxbizusa/
Facebook: https://www.facebook.com/taxbizusa1
Tik Tok: https://www.tiktok.com/@taxbizusa1
Keep up with us online:
Instagram: https://www.instagram.com/taxbizusa/
Facebook: https://www.facebook.com/taxbizusa1
Tik Tok: https://www.tiktok.com/@taxbizusa1