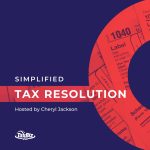 In this episode, the Tax Biz team discusses common mistakes made by business owners with relation to taxes.
Discussion Points Covered Include:
The definition of a tax mistake
More common mistakes found in small business settings
Corrective actions after identifying mistakes
Selecting the right tax accountant or tax resolution firm
Annual fees for retaining a tax accountant or tax resolution firm
How Tax Biz USA provides value to customers
Good habits to reduce the stress of calculating taxes at year-end
Have questions specific to your unique situation? Book a free consultation with one of our experts at https://taxbizusa.com/ or give us a call at 1-844-482-9249
About Tax Biz USA:
Our firm provides outstanding service to our clients because of our dedication to the three underlying principles of professionalism, responsiveness, and quality. We welcome you to contact us anytime.
(p): 1-844-482-9249
(w): https://taxbizusa.com/
Get the detailed attention that you need from an experienced accountant at TaxBiz USA. If you'd like more information or if you're ready for us to get started, give us a call today for an appointment or to further discuss your options.
Keep up with us online:
Instagram: https://www.instagram.com/taxbizusa/
Facebook: https://www.facebook.com/taxbizusa1
Tik Tok: https://www.tiktok.com/@taxbizusa1